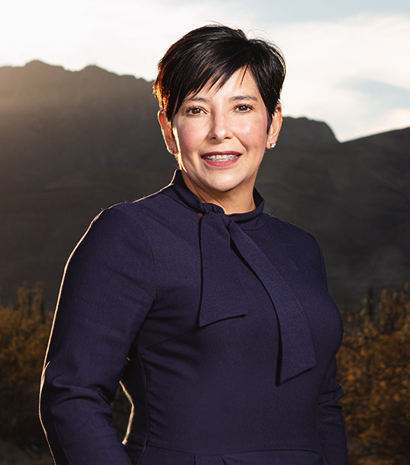 Angelica B. Carreon-Beltrán
Licensed in Texas and New Mexico
Angelica B. Carreon-Beltrán began her legal career in insurance defense before moving on to commercial litigation. As she gained experience, she realized she had a desire to help people in need and those experiencing crises. Angelica shifted her focus to family law and went out on her own, starting the Law Office of Angelica B. Carreon, PC in 2003.
With the opening of her own office, Angelica also began practicing commercial litigation and federal criminal defense law. The diversity of her practice requires a balance of empathy, creative strategizing and extensive knowledge of state and federal law. After six years of being on her own, Angelica merged her practice with her husband's practice, the Beltrán Law Firm, PC in 2009.
In her free time, Angelica enjoys doing outdoor activities with her husband, children and dog. She likes to work out, support the local professional soccer team, travel and spend time with extended family and friends. She is also a PTA member at her children's schools.
A graduate of St. Mary's University School of Law, Angelica is the first in her family to become a lawyer. Before attending St. Mary's, she graduated from the University of Texas at Austin with a B.S. in economics. Angelica is an El Paso-native and a graduate of J.M. Hanks High School.
J.D., St. Mary's University School of Law, 1997
Board of Advocates Member
Student Bar Association Officer
Phi Alpha Delta Law Fraternity
Winner of Negotiations Competition, 1996
B.S., University of Texas at Austin, 1994
Major: Economics with a concentration on the Economics of Developing Countries
Minor: Business Administration
Member, Hispanic Business Students Association
Member, Pre-Law Fraternity
Outstanding Lawyer of the Year: 2015-2016
Texas Rising Star 2006-Family Law: awarded by Law & Politics to outstanding lawyers 40 years and younger
Outstanding Young Lawyer of the Year: 2003-2004
Texas Young Lawyers Association
Board of Directors, 2000
Chair of the Reading Power Club Committee
Chair of the Minority Involvement Committee
Chair of Senior Texans
Vice Chair of Local Affiliates Committee
Long Range Planning Committee Member
Contributor to the development of the bilingual Pro se Divorce Handbook
Contributor to the development and distribution of Kids in the Crossfire video
Contributor to the development of the 'Just Hang Up' PSAs
Contributor to the development of bilingual 'Texas Seniors' pamphlet
Texas Woman Lawyers
Vice President, 2004-2007
Secretary, 2003-2004
Board of Directors, representing El Paso District, 2002-2003
Member, 1992-2002
CLEE planning committee, 2004
El Paso Young Lawyers Association
President-Elect, 2001-2002
Secretary, 2003-2004
Vice President, 2004-2005
TYLA Liaison, 2000-2006
Board of Directors, 1998-2009
Committees: Juarez Orphans Christmas Party, High School Mock Trial Competition, Wills Clinic for the Colonias, Keep Justice Alive Week Activities, Law Day/Week Activities, EPYLA, Golf Tournament, Reading Power Club, Wills for Heroes
El Paso Women's Bar Association
Vice President, 2003-2004
Secretary, 1999-2002
Member, 1998-2002
Committees: Bench Bar Banquet, Pen Pal Program
Federal Bar Association
Member, 2010-2018
Committees: Membership, Scholarship Chair, Rep on CJA Pane, Art in the Federal Courthouse
El Paso Bar Association
Member
Law Week Speaker Series 2001, 2002, 2003
Law Week Celebration
Decorating Committee, 2003
El Paso Bar Foundation
Member
Vice President, 2017-2019
Grant Compliance Officer, 2014-2020
American Bar Association/Young Lawyers Division
State Bar of Texas
Member, 1998-Present
State Bar College, 2000-2008, 2018, 2019
Pro Bono College, 2003-2008, 2017, 2018, 2019
State Bar of New Mexico
U.S. District Court for the Western District of Texas
U.S. District Court for the District of Colorado
U.S. District Court for the District of New Mexico
Better Business Bureau Paso Del Norte
Legal Advisor to the Board, 2016-Present
Project Change Mentor Program - YISD
A two-year mentor program for select 5th and 6th grade gifted students at Hacienda Heights Elementary School. The students' primary language was Spanish. The program is designed to provide role models and mentors for socially and economically disadvantaged, yet gifted, students in the hopes of bridging gaps and increasing the likelihood of them attending and succeeding in college. 2005-2008
First Presbyterian Christian Preschool
Board of Directors, 2008-2011
Committees: Community Outreach, Employment Committee
Planned Parenthood Center of El Paso
Vice President, 2004-2006
Secretary, 2002-2004
Board of Directors, 2001-2002
University of Texas at El Paso Speaker
Courts in Action, 2003, 2004, 2005, 2006
St. Matthew's Catholic Church Member
Tepeyac Institute Participant
Willow Bend Unit II - Homeowners Assoc.
President, 2004
Trustee, 2005-2007
Run El Paso
Member, 2008-2015
Houchen Commuity Center running coordinator for children's running group
Mesita Elementary School PTA
Member, 2012-Present
Parliamentarian, 2013-2014
Chair of Mustang Mini Dribblers, 2014-2016
Secretary 2015-2016
Wiggs Middle School PTA
American Youth Soccer Organization (AYSO)
Team Parent Coordinator, 2010-2018
Coach, 2010-2014
National Business Institute
Speaker on Landlord/Tenant Disputes, 2002
Texas Bar CLE
Presenter, Texas Minority Attorney Program, 2006
El Paso Hispanic Chamber of Commerce
Speaker on Legal Issues Facing Small Businesses, 2006
Speaker on Advertising and Marketing Ethically, 2006
Red Mass Planning Board, 2003-2004
Jospeh M. Pritchard Inn
Texas CLE
Presenter, Termination of Parental Rights, 2010
Law Office of Angelica B. Carreon, PC
Practice Areas: family law, commercial litigation and federal criminal defense
Krafsur Gordon Mott, PC
Practice Area: Commercial Litigation
Ray, McChristian & Jeans, PC
Practice Area: Insurance Defense